THIS model house shows a cross section of part of a traditional Korean house. The model contains common architectural elements that can be seen in our sarangbang, such as the tiled roof, lattice doors and windows covered with white paper, and an outer ledge.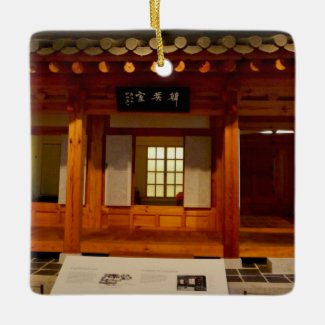 THIS sarangbang reconstruction was built by the renowned Korean architect Shin Young-hoon and twelve Korean craftsmen in July 2000. THIS building is in the style of an upper class house of the mid-1800s. ITS design is based on the sarangbang of the Yeongyeaongdang (House of the Flying Happiness) in the Changdeokgung Palace in Seoul.
Where can you find this sarangbang?
Hint: IT is not in Korea.