IT is a reinforced concrete structure, approximately 5 stories in height and 100ft tall.
IT was designed by the Japanese architect Yoshiro Taniguchi and constructed in the 1960s.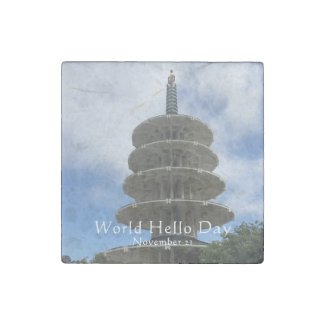 Designed in a Modernist interpretation of a traditional Japanese pagoda form, the circular-plan
structure consists of a core of twelve, vertical concrete posts supporting a series of five broad,
circular, conical roofs clad in copper plates.Exposed concrete beams, resembling rafters,
radiate from the central core to support the conical roofs, which decrease in diameter from 46 to 34 feet as they increase in height. The Pagoda is crowned with a nine-ringed bronze spire, or "kurin,"
surmounted by a golden flaming head, or "hoshu," topped with a ball finial.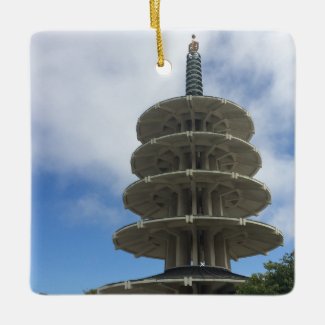 The structure rests on a five-sided concrete podium composed of two inner concrete steps and three
concrete outer steps. Further out is another concrete platform with three concrete steps. A
copper plaque is located near the north end of the second step of the podium and reads: "THE
PEACE PAGODA – Presented in Friendship to the People of the United States by the People of Japan – March 28, 1968." Another copper plaque with Japanese writing is affixed to one of the concrete posts of the central core. Translated it reads: "This Peace Pagoda was given to People of America from People of Japan as a token of friendship between two countries – March 28, 1968."